Empowering Michigan Career Expo
Summer Job Fair
Friday, June 25, 2010
9:00am - 12:00pm and 1:00pm - 3:00pm
Holiday Inn Hotel (Southgate)
2537 Rochester Court, Troy MI area map


Empowering Michigan Expo Events

June 25, 2010 Expo Exhibitors

Includes the following Corporate Sponsors:
First Financial Insurance Group, Inc.
Merrill Lynch
Joyce Fortier of "Create Your Career"
Unemployment Insurance Agency
Kmart Retail/ Sears Holdings
E-Fusion Energy Club
Advanced Strategies Group
NLB Corp.
Heath Consultants Inc.
PartyLite
And many, many other hiring companies

Previous Expo Exhibitors

In response to the current economic crisis and a tightening labor market, Michigan Expo Experts.com has made an effort to network with hiring companies in Michigan; and bring together jobseekers with companies who seek their talents and skills.

Top Job Search Tips:
Be Prepared

.

Have a telephone answering machine or voice mail system in place and sign-up for a professional sounding email address. Put your cell phone number on your resume so you can follow up in a timely manner.
Create Your Own Templates. Have copies of your resume and cover letter ready to edit. That way you can change the content to match the requirements of the job you're applying for, but, the contact information and your opening and closing paragraphs won't need to be changed.
Go directly to the source. Instead of just applying for the posted job opening, one of the best strategies to finding a job is to first figure out where you want to work, target that company or industry and then contact the hiring manager. Also, many employers' career pages invite visitors to fill out candidate profiles, describing their background, jobs of interest, salary requirements and other preferences.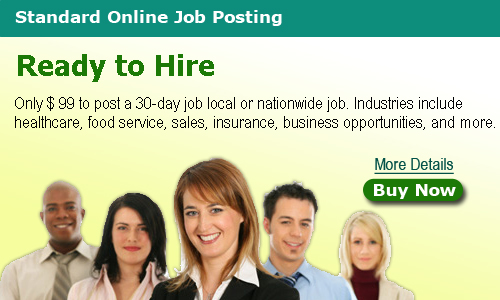 " ExpoGiant.com has helped us find over 75 Telecom Sales Representatives at the May 26, 2009 expo. It also helped us promote our cell phone products to potential clients." - MiTel Wireless, Frank Nettles
"We had a serious need for home healthcare aids we found that Expo Giant networks with several nursing schools in Michigan; we had more than 500 applicants apply for our recent position." Stevenson Home Healthcare